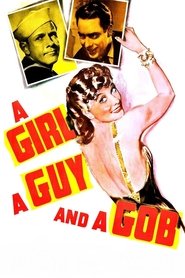 Watch A Girl, a Guy, and a Gob (1941) : Full Movie Online Steve is a shy quiet man who is an executive for a shipping firm. He meets Dot at the Opera where she had his seats and the next day she shows up as his temporary secretary. Then Coffee Cup comes to town to see Dot, his gal. When Steven is with Cecilia, everything is boring. When he is with Dot and Coffee Cup, everything is exciting and he falls for Dot. But Coffee is getting out of the Navy in a few days and he plans to marry Dot.
Title
A Girl, a Guy, and a Gob
Release Date
Mar 14, 1941
Genres
Comedy, Romance,
Production Company

RKO Radio Pictures

Production Countries

United States of America

Casts

George Murphy

,

Lucille Ball

,

Edmond O'Brien

,

Henry Travers

,

Franklin Pangborn

,

George Cleveland

,

Kathleen Howard

,

Marguerite Chapman

,

Lloyd Corrigan

,

Mady Correll

,

Frank McGlynn Sr.

Plot Keywords

opera

,

navy

,

family relationships

,

wrestler

,

secretary

,
Claudius "Coffee Cup" Cup
George Murphy


Man at Dance Hall (uncredited)
Eddie Borden
Attendant at Marriage Bureau (uncredited)
Wade Boteler
Woman on Street (uncredited)
Mary Field
Newsboy Outside Opera House (uncredited)
John George
Sylvester P. Wurple (uncredited)
Earle Hodgins
Dance Hall Girl (uncredited)
Carol Hughes
Announcer of Piano Winner (uncredited)
Lloyd Ingraham

Laborer in Manhole (uncredited)
Frank Mills
Opera House Assistant manager (uncredited)
Edward Peil Sr.

Wedding Chapel Attendant (uncredited)
'Snub' Pollard
Dance Hall Bouncer (uncredited)
Dewey Robinson
Opera House Doorman (uncredited)
Blue Washington